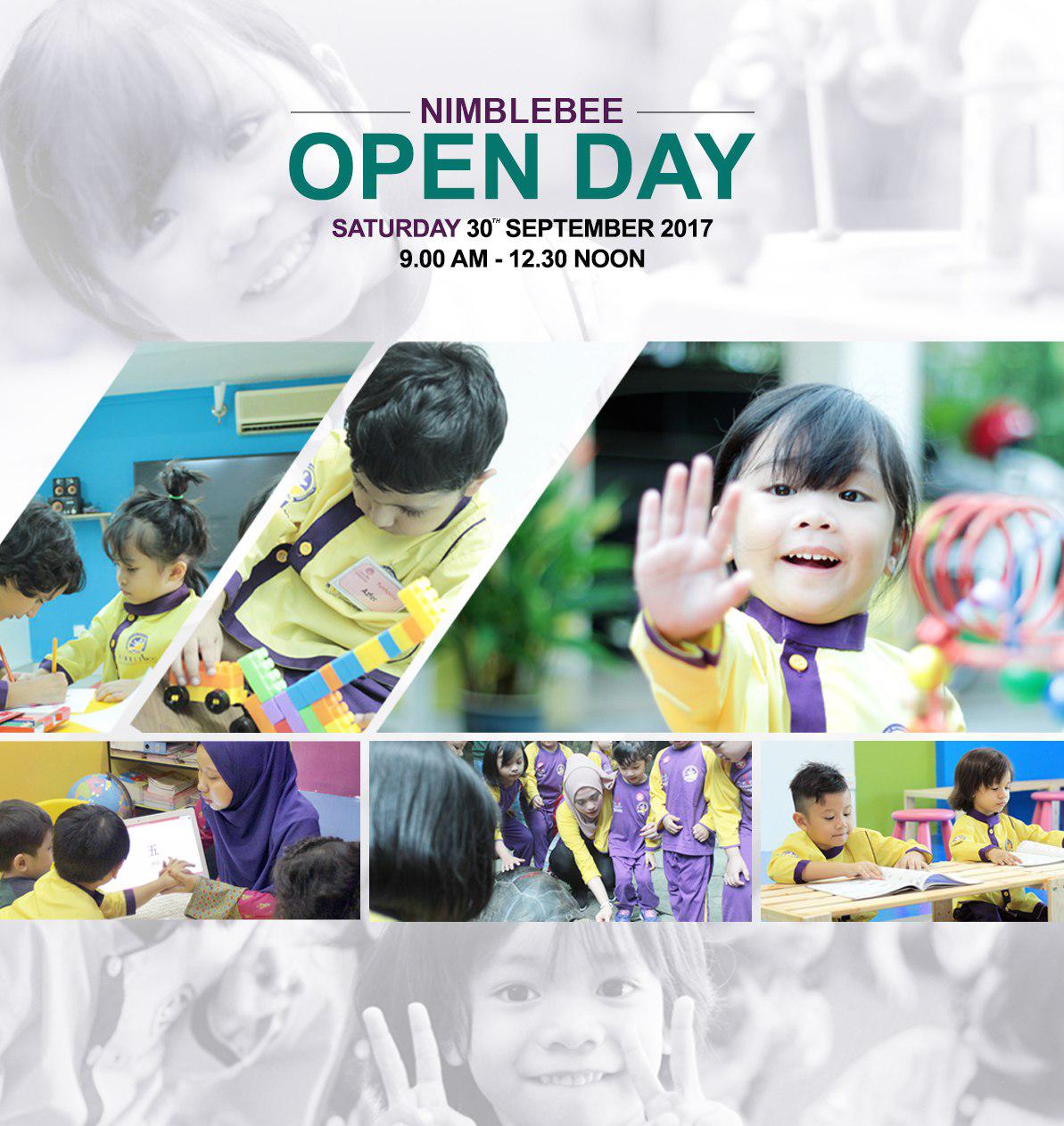 GOOD NEWS!
You will SAVE up to 50% OFF on 2018 annual registration fee.
This offer is VALID ON OPEN DAY ONLY. (t&c)
Nimblebee Islamic Entrepreneurial Preschool is pleased to announce that we will be opening our doors to prospective students and their parents for the Open Day on 30th September 2017 from 9.00am – 12.30 noon.
This will be a great opportunity for students and parents to tour our facilities, explore our programs, and the teachers will be available to anwser any questions you may have.
School capacity is limited, so HURRY UP! Register your child NOW!
We are looking forward to meet you!
Welcome to Our Islamic Entrepreneurial Preschool
Nimblebee Islamic Entrepreneurial Prechool is an accredited private school that provides a premier educational child care experience. As the 1st Entrepreneurial Islamic Prechool in Malaysia, we partner with parents to help children build the right foundation for future learning and life. Our goal is to help children have fun while building Active Minds, Healthy Bodies and Happy Heart.
Parents Love Us, Have a Look!
I prefer my children to learn more about Al-Quran and Sunnah and that's the reason I'm sending my children to Nimblebee. Alhamdulillah, I can see lots of improvement in my children after learning from this preschool. Apart from wanting my children to be smart, I want them to understand further about Al-Quran and Sunnah, and from my experienced, Nimblebee has fulfil the requirements that I need. Nimblebee not just teach the kids to become excellent in academic, but the relationship between teachers, parents and children is also great.
Before I send my child in Nimblebee, he can't talk. Afterwards, he become communicative and talkative. To my surprise, my son can even help me with the mathematic calculation and he's very good with Mathematics. I recommend to all parents who wish their children to learn in outstanding environment and modern school as well as their child become more independent, Nimblebee is definitely the choice!
My son have Global Speech Delay which mean he has trouble to speak and need special care even though he's already 5 years old. Hence, it's not easy to find a perfect school for him. I have done a lot of research and that's when I came across Nimblebee. The most special about Nimblebee is the teachers very sincere in teaching and taking care of the children, they treat the students just like we the parents take care of our children. I'm truly satisfied with Nimblebee's teachers and how cheerful they greet my son every morning in front of the school door is a bonus point from me.
Nimblebee has an Islamic approach which is the main priority that get my interest to send my child. This school was not emphased the students on academic approach alone but more on cheerful and fun learning which make me interested to send my child here.